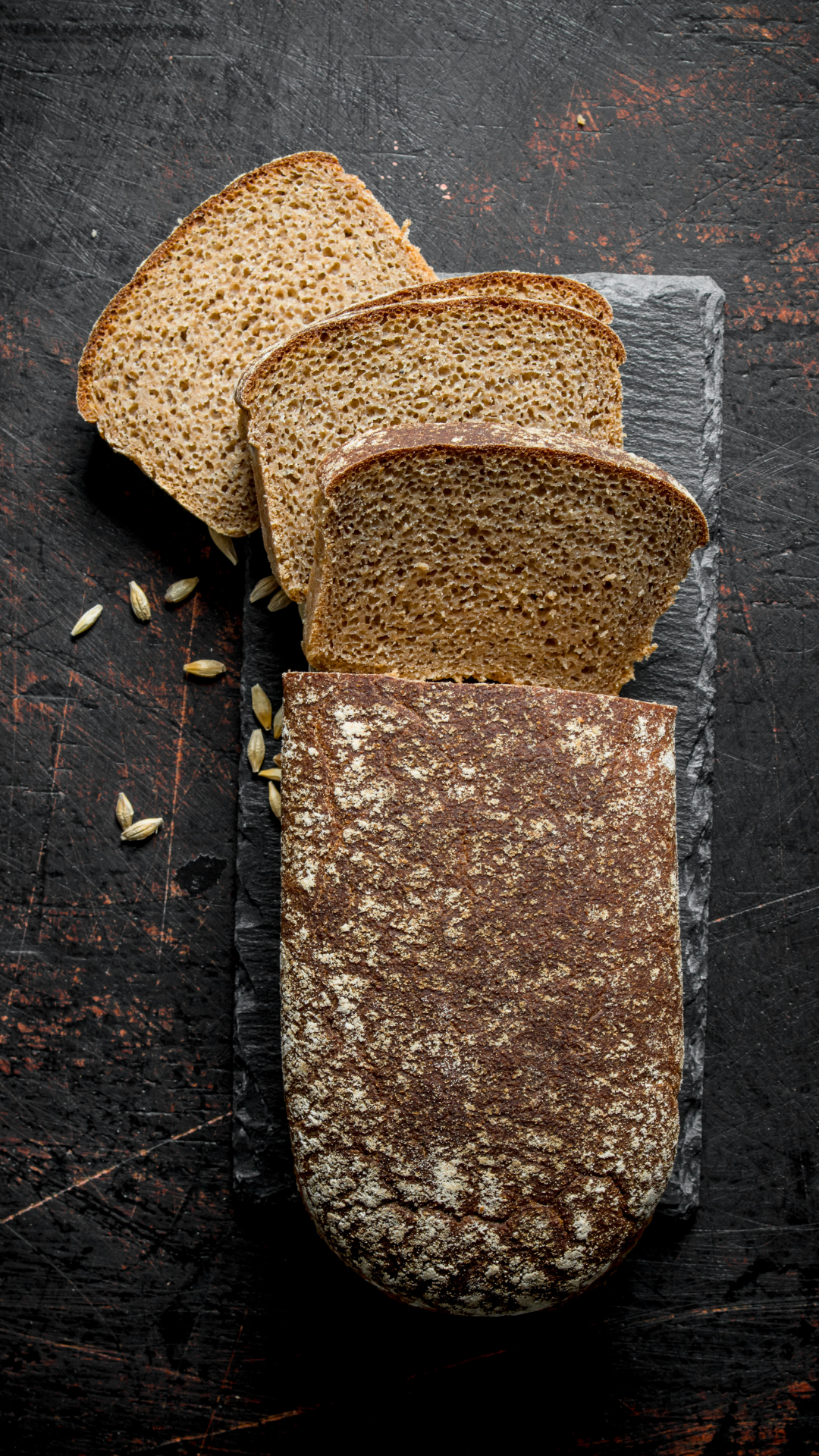 Rye Bread
Our Pure Rye Breads consist of 100% rye.
The result of the last fermentation is a natural, little sour, juicy bread, with a medium fluffy inside and a very aromatic crust on the outside.
This bread is very suitable for friends with baking yeast allergies as the very long fermentation process breaks down most of the toxins.
The bread is easy to digest and can be eaten at any time of the day.
It is suitable for diabetic and allergic persons. Our friends praise the positive impact on the gastrointestinal tracts. It is starch low, gluten low and vegan.
Base Ingredients
Wholegrain rye sourdough

Rye flour

R

ock salt

Special filtered water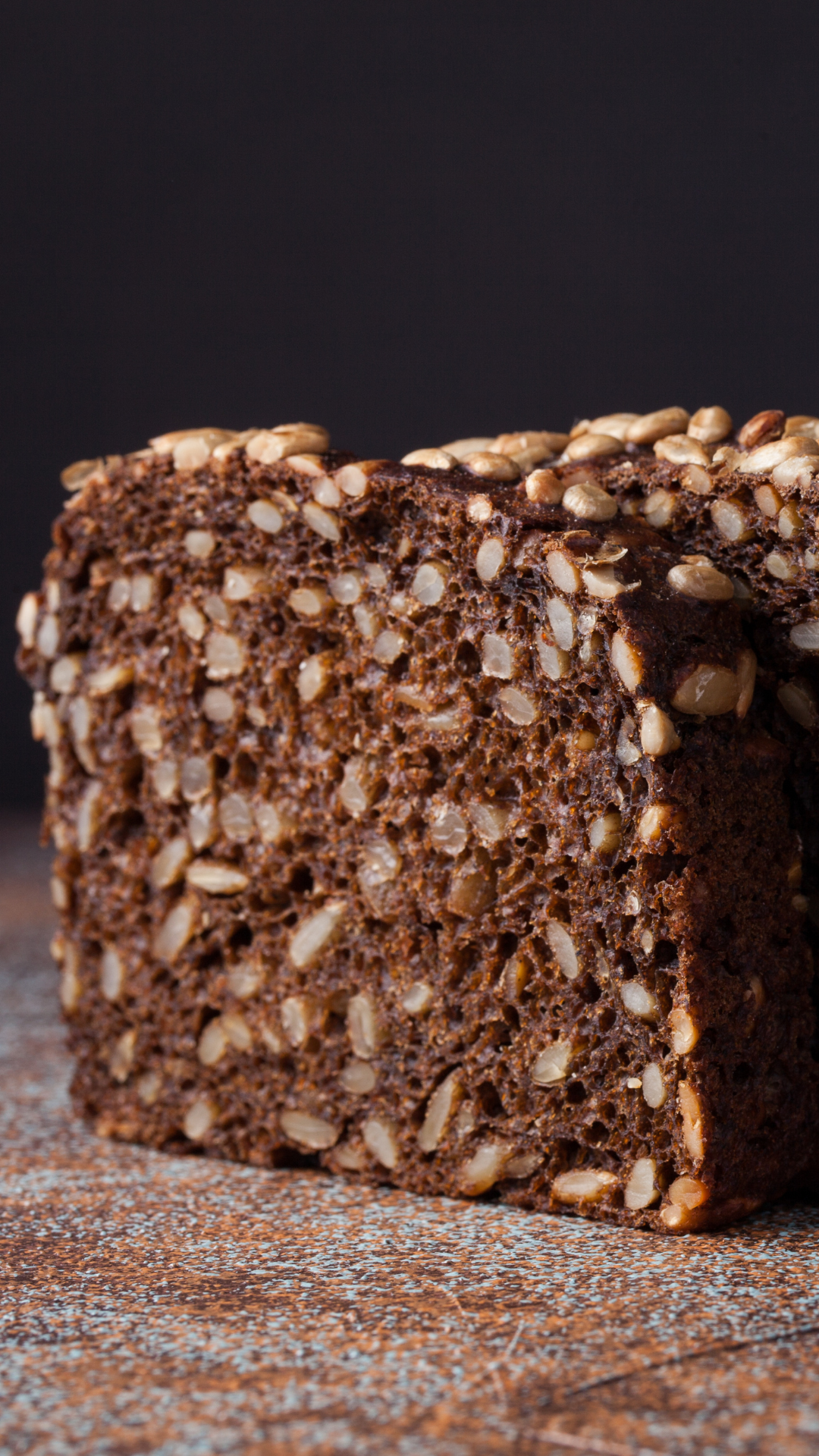 Gluten Low Breads
Our Seed Breads are made of only wholegrain grains and seeds, are baking yeast free and vegan.
A whole grain contains all edible parts of the grain, including the bran, germ, and endosperm and whole grains deliver many important nutrients.
In fact, eating whole grains is associated with various benefits, including a lower risk of diabetes, heart disease, and high blood pressure. Regularly eating whole grains may reduce your risk of heart disease, type 2 diabetes, and obesity. High-fiber foods like whole grains also significantly improve your digestive health.
Seed Breads are great partner to all kind of toppings and are great as they are or even toasted.
These breads are vegan.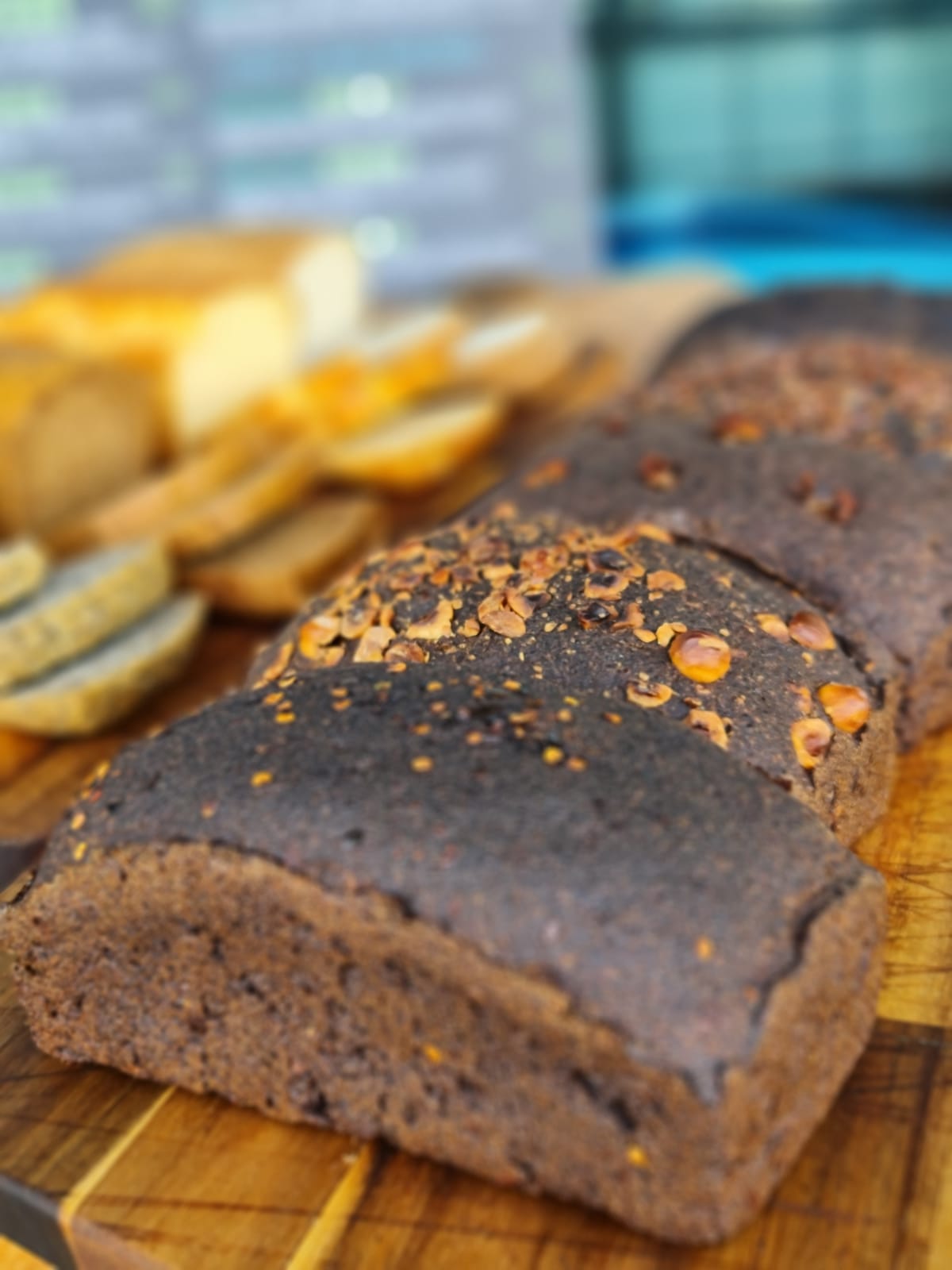 Keto & Low Carb
All our KETO and Low Carb Breads are vegan and made from glutenfree ingredients, such as flax seeds and chia seeds, baking soda, salt, vinegar, olive oil, water, turmeric and black pepper. We then add special ingredients such as fruits, vegetables or nuts for some special tastes.
Our KETO breads are ideal for all our Baker's Kitchen Friends who are following a KETO diet. But also our non-KETO friends love these breads for their flavors.
Our Low Carb Breads are made the same way as our KETO breads but contain fruits or vegetables which are not KETO friendly, e.g. carrots or apples.
All breads of these two groups can be eaten with all kinds of savory and sweet toppings..
With all the various additional ingredients, these breads support your health and lowers certain health risks for your body.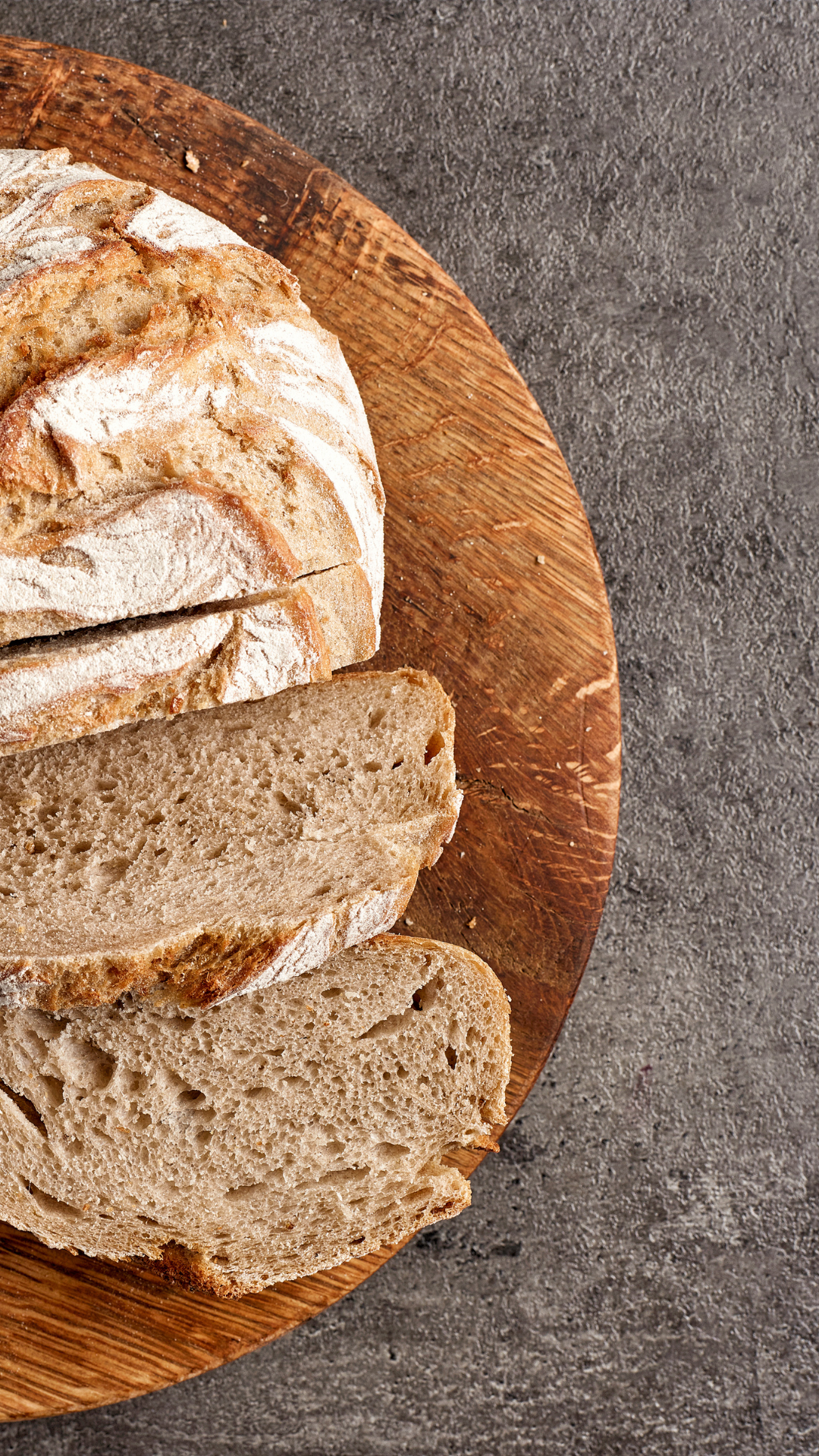 Heide Bread & Buns
All our Heide Breads and Buns are made of wholegrain rye sourdough, a mix of wheat and rye flour, filtered water, rock salt and a minimal amount of baking yeast. The aromatic taste comes from roasted rye flour which is added. The percentage of wheat flour is higher than rye flour.
The result is a natural, slightly sour bread, fluffy and wild from the inside with an aromatic crust. The bread is easy to digest and therefore can be eaten at any time of the day.
It is great for breakfast toast and is very similar to the typical farmer white bread. All kind of toppings go well with Heide Bread.
These breads are vegan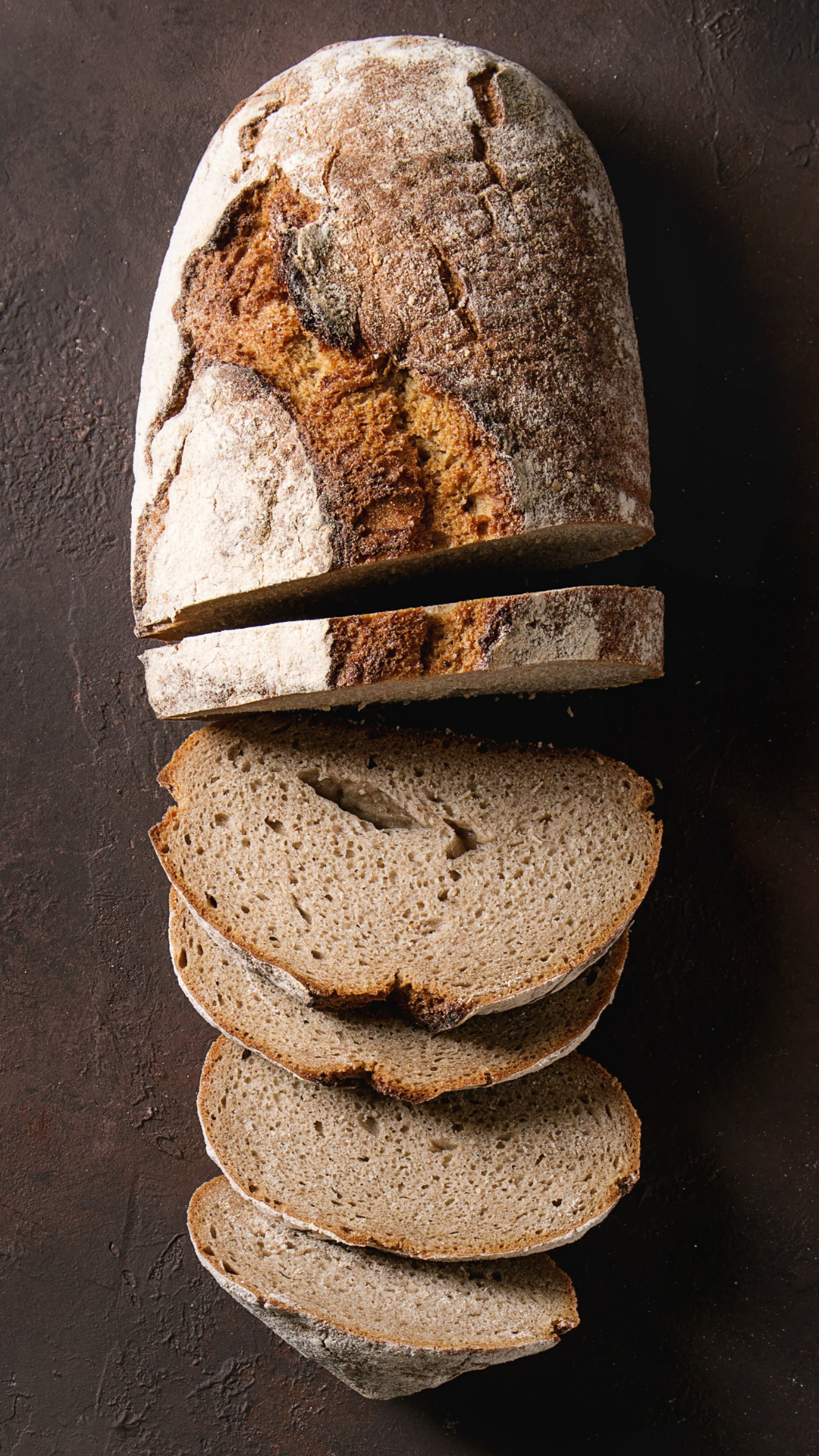 Wild Breads
Our Wild Breads belong to the group of Rye Breads and are mainly rye flour mixed with a smaller portion of wheat flour.
We only use rye sourdough, rock salt, filtered water and a very little amount of baking yeast together with the rye-wheat flour mix.
Due to the rye sourdough and the fermentation, the Wild Breads have a slightly sour rye taste. The inside is fluffy, moist and soft. The broken crust is very aromatic. The typical taste of a Wild Bread is achieved by a very powerful and high heated baking start.
Especially kids love our Wild Breads for their sandwiches at lunch break. Wild Breads go well with every kind of topping. A piece from home – childhood memories –clean and real… just like back in the days!
These breads are vegan.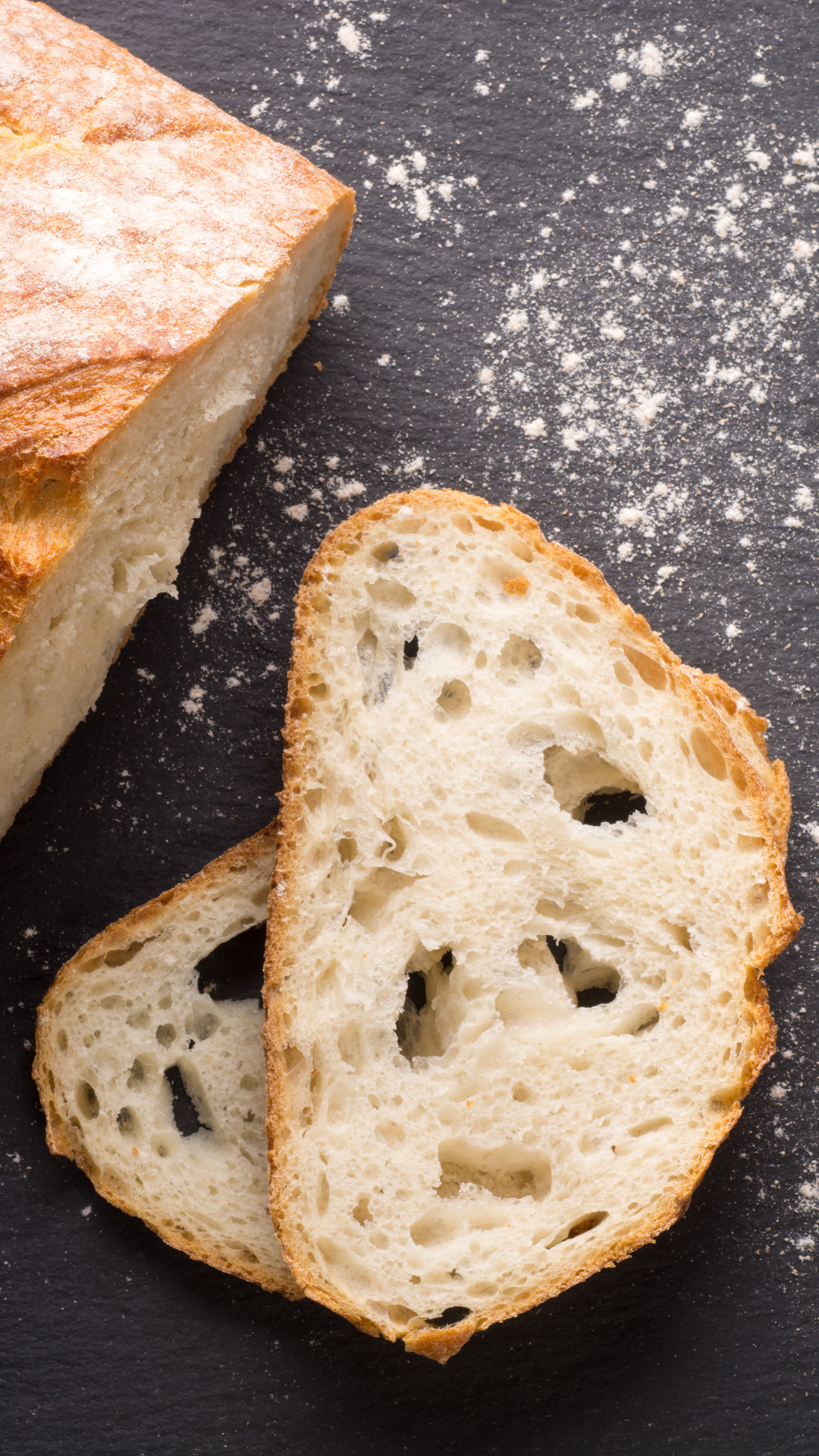 Wheat Bread & Buns
Our Wheat Breads  and Buns are made of wholemeal wheat sourdough, wholemeal wheat flour, rock salt, special filtered water and a minimal amount of baking yeast.
Wheat Bread has a very aromatic taste based on the sourdough and its full fermentation. The inside has medium sized pores so that the toppings will not fall through. It is soft and juicy. It is a great sandwich base and tastes toasted very well. It is very alike to German White Bread.
The fermentation makes this bread very easily digestible. The nutrients are absorbed very well
These breads are vegan.
Brioche Breads & Buns
Our Brioche Bread and Buns are made from wheat sourdough, wheat flour, full fat milk, eggs, butter, rock salt, cane sugar, baking yeast, lemon zest and a pinch of vanilla aroma.
When topped with butter and homemade jam it's a delight for every sweet lover.
But topped with sesame the buns become the ideal base for your burgers. Give your burger some color with our colored burger buns. We only use natural colorings such as beetroot, spinach and squid ink.
Give it a try next time!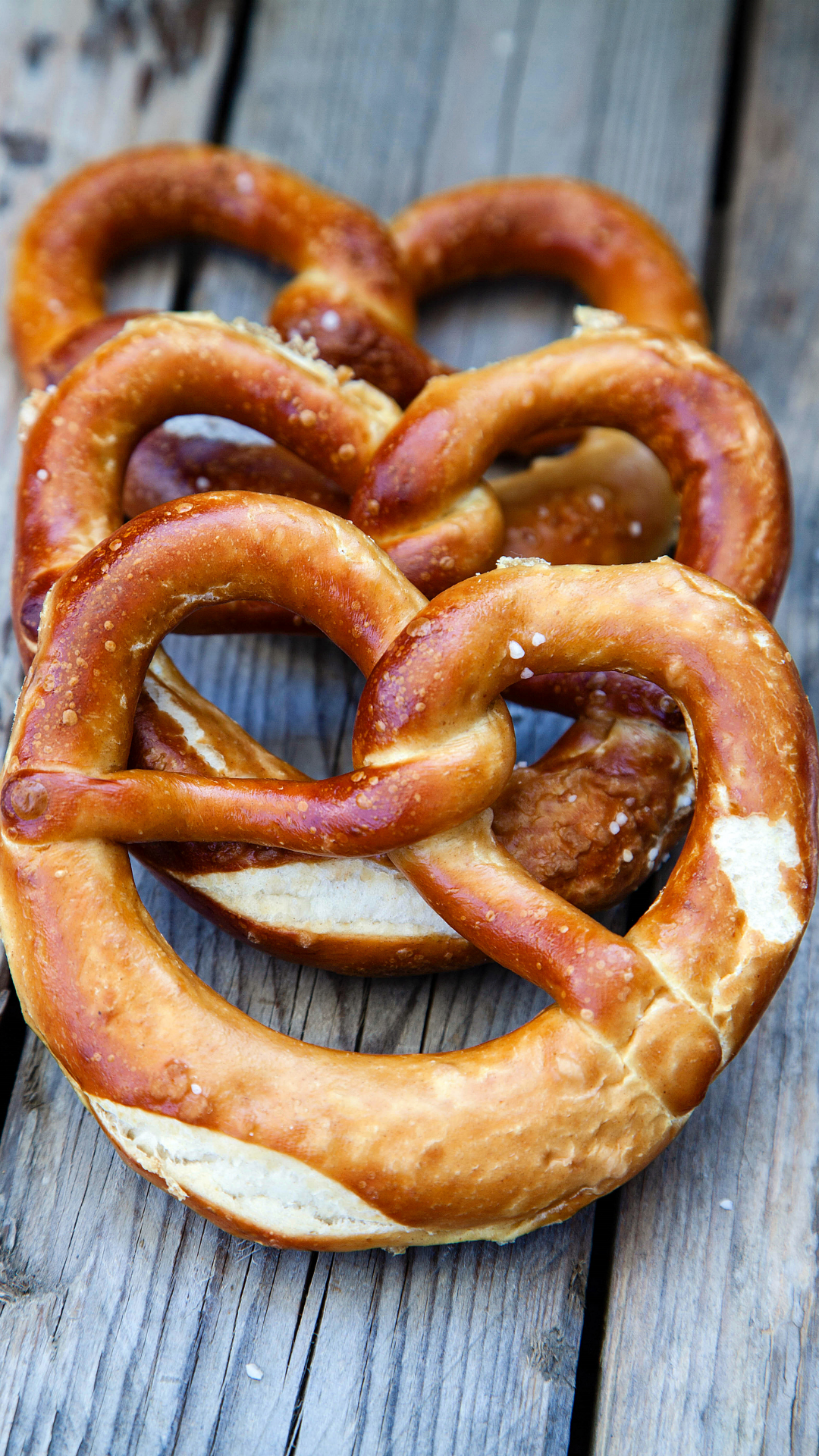 Pretzels in every form
Our Pretzel dough is full fermented wheat sourdough. We use vegan butter to make all our pretzel products suitable also for Vegans. Before baking all pretzel products are dipped in lye which gives it its distinct look and taste.
Pretzel products are the perfect partner for savory toppings like cheese, charcuterie or try it with our traditional German meatloaf. Try it with just butter and sprinkle it of with chives.
Unfortunately, the humidity in the UAE makes them quickly soft, but that's not an issue at all! We recommend you to quickly toast or re-bake it for a few minutes and they are just like fresh from Baker's Kitchen.
These breads are vegan.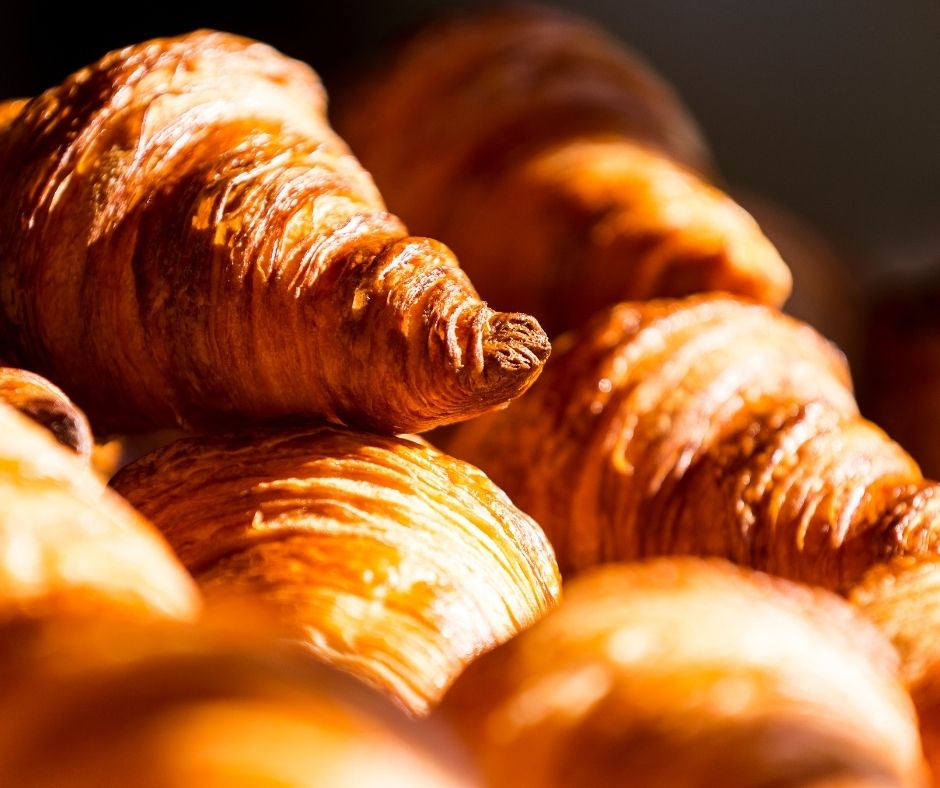 Croissants
Our Croissants are made with real butter and wheat flour.
We offer you a variety of sweet and savory croissants. One for everybody's taste and ideal for the sweet breakfast tooth or the base of your omelette sandwich.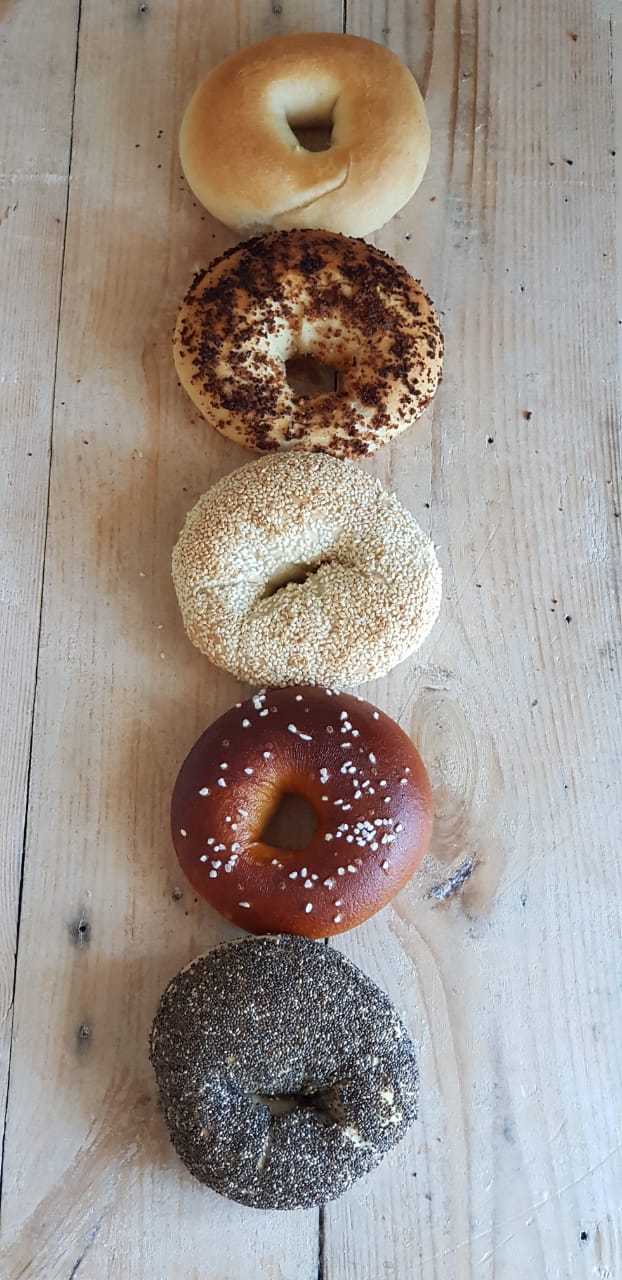 Bagels
Our Bagels are made from wholegrain wheat sourdough, wheat flour, special filtered water, rock salt, vegan butter and a small amount of baking yeast.
We top them off with our very own roasted garlic-onion mix, or just seeds like chia, sesame or just mixed. And if you find it too difficult to put butter on a Pretzel, then try our Pretzel Bagel. Here you have just one hole.
All Bagels are going well with cream cheese, any toppings and very traditionally with smoked salmon. Try them toasted too!
Our Bagels are vegan.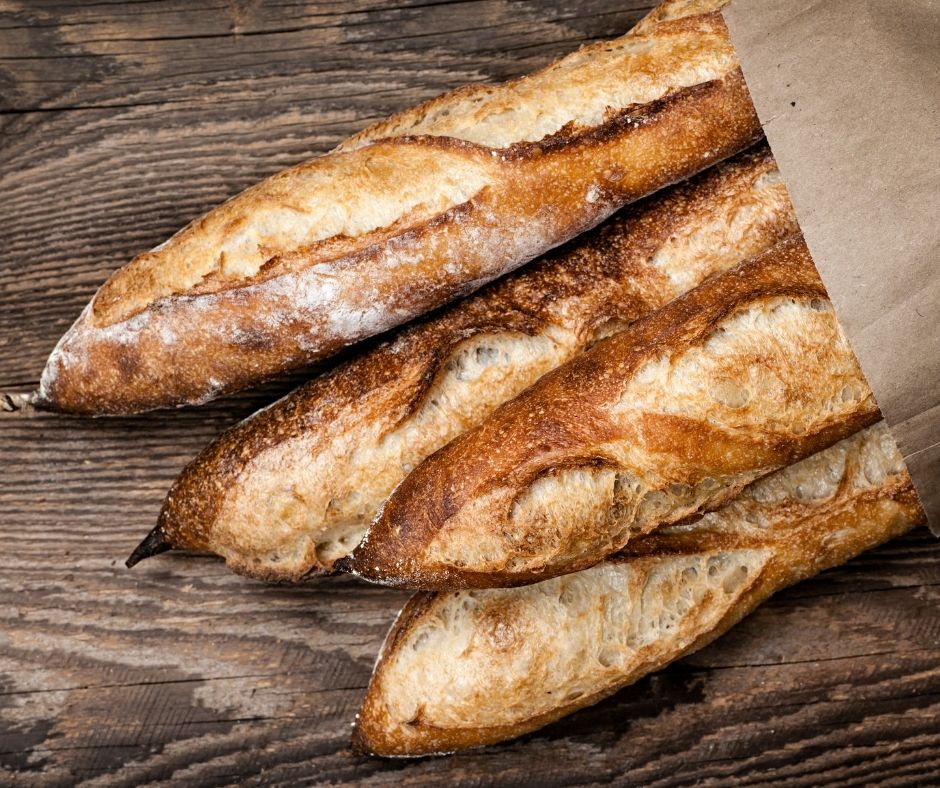 Mediterranean Bread
Every Thursday we bake our Mediterranean Breads according to very old traditional recipes.
The dough of our Mediterranean Breads is fermented for over 3 days, has a high hydration and is without any baking yeast. 
We have pure wheat, rye-wheat mixes and wholegrain breads. From Baguettes, Focaccias, Ciabatta and Pain de Campagne… we have your favorite bread. And we are extending the variety constantly. Try the Truffle Baguette or the Ciabatta with Smoked Salmon and Cream Cheese. 
We only serve these breads on THURSDAY.